Select Vehicle Type
Quick Search
Live Chat
Questions, Advice, Pricing
---
Automotive
Medium Duty
Heavy Duty
---
Help & Info
---
Free Shipping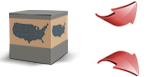 ---
Security
---
Follow Us
Clutch Products
Your Dodge deserves the highest quality clutch parts. We carry a full line of Quality Clutch Kits, Flywheels, Master Cylinders, Slave Cylinders, & Clutch Forks: All at great prices!

Start by Selecting the Year - Make - Model. Let the page refresh then select the Engine and Fitment info below. Only parts that fit your Dodge model will display below.
Select Your Vehicle
Please start by selecting your vehicle in upper left!