Select Vehicle Type
Quick Search
Live Chat
Questions, Advice, Pricing
---
Automotive
Medium Duty
Heavy Duty
---
Help & Info
---
Free Shipping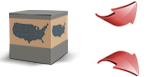 ---
Security
---
Follow Us
Clutch Kits - Street Performance
Street Performance Replacement Clutch Kits

Cars | Pickups | SUV's | Vans

Need a New Heavy Duty Clutch Kit Upgrade for your car or pickup? Guess what - you came to the right place. We carry a full line of the highest quality Stage 2 to Stage 6 Performance Clutch Kits made with heavy duty organic linings, high heat and long lasting kevlar linings, and performance oriented ceramic buttons. Looking to save money?

We have great low prices - see for yourself!
Select Your Vehicle
Selected Vehicle:   2012 - Ram - 3500 ST USA