Select Vehicle Type
Quick Search
Live Chat
Questions, Advice, Pricing
---
Automotive
Medium Duty
Heavy Duty
---
Help & Info
---
Free Shipping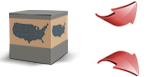 ---
Security
---
Follow Us
Clutch Products
Automotive Clutch Parts
for Cars | Pickups | SUV's | Vans
Your vehicle deserves the best selection of manual transmission clutch parts. We carry a full line of Quality Clutch Kits, Flywheels, Master & Slave Cylinders, and Clutch Forks:
All at great prices!
NEW Clutch Kits for Cars and Light Duty Trucks (Pickups)

We offer over 1,300 NEW clutch kits in our Automotive & Light Truck Clutch Catalog, with listings from the 1950's up to today. Each five-piece standard Clutch kit includes a cover assembly, disc assembly, release bearing, pilot bearing or bushing, and an alignment tool. Our kits also feature technical bulletins where appropriate to ensure the installer is knowledgeable of any unusual problems before the clutch is installed. All components are chosen for their durability, dependability and value.

We also stock standard and dual mass flywheels, clutch hydraulics, forks, cables, and other clutch related parts and tools.


Our kits contain components sourced from various OE clutch manufacturers such as Aisin, BCA, Borg & Beck, Daikin/Exedy, FCC, INA, LuK, Nachi, NKK, NSK, NTN, Sachs, and Valeo, as well as ourselves. The components are selected based on overall performance, consistent quality levels (ISO certification), dependable delivery, and acquisition
cost. Incoming inspection and in-house testing ensure consistent product quality. Trained and dedicated clutch specialists handle all kit packaging and make sure the correct components and bulletins are in every kit.
Select Your Vehicle
Selected Vehicle:   1990 - Nissan - Pickup D21